A few months back I built my own buffer with a few bits off ebay, a pillar drill motor and a metal shaft turned by a local lad in a shed. But you know how it is - I really don't like changing mops, and fancied an extra buffer so I could go from medium to fine to extra fine. Less sanding, more polishing.
A feller was selling a profile sander on Gumtree near me for $150. He just wanted it out the way and delivered it too. Top lad! It had a perished rubber drum, and I originally thought about turning it into a thickness sander. If you're not familiar with a profile sander, this is what they look like: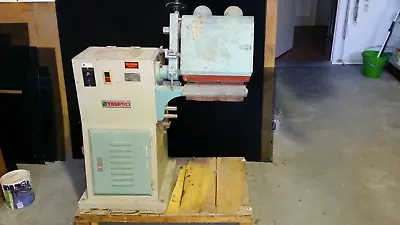 They get used in the furniture trade for sanding chair components, bed slats, things like that.
Anyway, I quickly realised the thickness sander plan wasn't going to work, so I set about with plan B, stripping off all the bits I didn't need to leave just the 1" thick drive shaft. The 240V, 2HP Taiwanese motor is slow, and currently set up to run the buffs at about about 1600 rpm if my calculations are close.
The buffs are Stewmac. I made a split collar from a 1" thick plastic offcut and a couple of bolts to keep the buffs in place.
Its a really solid machine, but not so heavy I can't walk it outside on a fine day to buff without making such a mess inside the shed.
Profile sander buffing machine. Highly recommended.