i could not work out how to add youtube links at first becaue hte link in browser was adding somethign extra to it. Now i have worked out how to do it i cant edit post to fix things

now my post will forever be wrong ?????
i am uploading it properly here now ok (
maybe a forum op can fix the initial post and delete this for me thanks
)

Here is some general info from my own testing and some interesting stuff I found out there. Would also love to hear your ideas and stuff on this subject.   
When it comes to stompboxes, foot drums etc, there are many types, from DIY to professional electric or acoustic. Basically a stompbox is anything you hit with your foot to make a percussion sound. these can be acoustic or electric.
As far s i can tell stompboxes started in the deep south of the USA with the country, bluegrass, blues style of music. as these developed they they took on their unique sound and style these are commonly known as a Mississippi Stompbox. from this people started to experiment with electrifying them. and thus today we have many various types of stompbox percussion/foot drums around. soem names i can think of is the wazinator, peterman stompboxes, Dalmedo, pucki'n'stomper Farmer foot drum.
My Gear:
SX Stompbox:
have an sx stompbox. this uses a bass drum pickup looks like a double j style or humbucker. this pedal gives a dull thud when played. I find it nice to add when i am playing solo at home or busking. 
1.
I use this when busking in the microphone jack of my micro spider guitar amp this sounds ok there. 
2.
I have tried it at home in my Roland Cube 20xl bass amp. this amp has some good built in effects including reverb and delay. reverb in this adds more depth and sounds better. 
3.
I then tested it using my "Behringer V-tone Acoustic ADI -21" Di/Preamp and it warms this up a bit. This got me thinking how a bass preamp like the Behringer Bdi21 or a bass eq pedal would sound. I will need to pop into local music shop to test this theory out.
4.
I lend this to our drummer at Church each week as we don't have space to store his full drum kit just symbols, snare, in the building we rent. the sound guy tells me he tried to warm it up a bit on the desk but cant do much with it. 
5.
 I also have tested it using both my Korg AX5B Bass effects pedal, and Korg AX10A Acoustic effects pedal. using the effects in both these pedals enhanced the Footdrum. it helped to widen the sound, give more depth and reverbs made it sound amazing, oh the bliss. I will make some patches on each of these for the foot drum so can use depending on wether i am playing bass or guitar. 
Overall: 
by itself this is a very basic pedal that gives a dull thud. it really needs to go through some effects to get the most out of it.  
Foot percussion: 
Meinl Foot Shaker:
LP Foot Tambourine: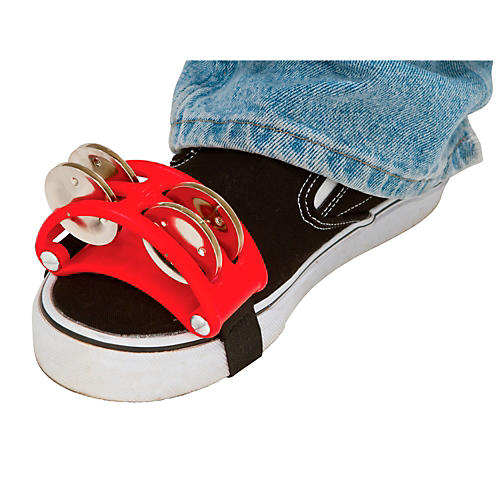 Homemade Testing Stompbox:
There are heaps of ideas online if you look around, especially on youtube. I have also attempted to make a home made one. using a box and different sizes of cheep pezo pickup, based on ideas from youtube. I also tried using a small 8ohm 10w subwoofer from an old computer speaker set. 
1. Plastic hobby box: 
This tended to sound a bit like a cave, to tinny/treble, and prone to feedback even at a distance from amp. My adi21 gave this a bit more depth and warmth.Cajon Pedal 7 - Stompbox
2. Thin Cigarbox:
This has some better tone but still hot. adi21 gave it a much better tone. this was to weak to use and would easily break with a bit of stomping.
3. Heavy cigar/jewerly box:
 This was by far the best box. strong. a bit less hot and warmer. again the adi21 gave this a better sound more depth and less feedback.
Overall: 
I think that pezo pickups by themselves are not a good choice for a stompbox pickup. they are to hot, with lots of feedback and don't have a great tone or sound. they defiantly need a preamp or other setup to make them less hot. you may be able to find a pickup specifically built for stompbox or stompbox kits, Like these ones
DIY
. there are many ideas, tips and tricks for making your own strompbox online.  
Jewellery Box model:
 Here is my jewellery box one using the 8ohm 10w sub-woofer speaker. This sounds great and better than the piezo disks i tested. again a guitar effect unit with reverb adds more oomp sounds great. I have yet to finish the outside. Originally it was panted had something like "to my darling daughter....." so I have sanded that off. I will probably paint and varnish this and may put something like "Foot Stomper" or "Tap here" or even a graphic but have not decided on a final design.    
Another DIY Project:
I have another DIY Project I am wanting to work on and have a post for that 
DIY Foot drum, Stompbox, percussion
Interest sake: 
Farmer Foot Drums:
Farmer make drum kits and percussion instruments. all acoustic. see 
Farmer Foot Drums
. 
here is an overview of the Delux model [youtube]
http://youtu.be/RwZt71SxNFg
[/youtube]
youtu.be/
Cajon: 
A cajon is a wooden box that the drummer sits on to play, using hands etc. they now have drum pedals for them so handy for a guitarist to sit on and play.
youtu.be/