After seeing a recent discussion of pore filling on the OLF, I decided to try something different from my usual Epoxy fill method. Epoxy works great, but it's really messy, and isn't the most user friendly thing that I've ever done. As I was just about to fill the pores on this current East Indian Rosewood OM, this was going to be the perfect opportunity. It has huge pores to fill, and with the epoxy I'm pretty sure that it would take 3 sessions, with at least 24 hours dry time between each round.
To start with, I sanded the body back to P180 grit dry, then gave it a good vacuum and inspection. As I suspected, this was going to take some work to get a nice smooth surface. There were also a few small gaps around the purflings. Nothing to be concerned about, but they would need to be filled.
I separated an egg and saved the yolk for my breadfast omelette.

Then, not really having a clue about how to tackle this, I thought that something similar to the way you fill during French Polishing, would perhaps work.
I took a small pad of 180 grit sand paper, (it was fabric backed, but wet and dry would work as well) and dunked it in the egg white, then started to sand the surface in a circular motion. Just doing a small area at a time. I worked up a bit of a slurry that was a nice dark maroon and stopped sanding once it started to dry out. I found that if I kept sanding the fill would start to ball up and pull out of the pores. Heres what it looked like when I move onto the next section.
EDIT
- As I've had some feedback about this procedure I'm going to revise the choice of grit for sanding to something finer. It will depend on the type of wood, and how hard it is, but you won't go wrong by using something in the range of P600 or micro-mesh. You'll need to be the judge of what's appropriate.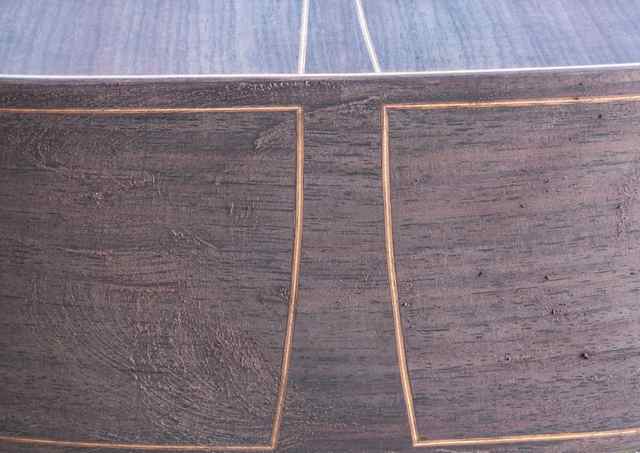 The egg white dries quite quickly and I found it easy to control where it was spread. It's much more difficult with epoxy to keep it away from the spruce top.
This is the second time around for filling this guitar. The first time around got the surface almost perfect. It just needed a few small areas touched up.
Here's an example of an off cut from the same wood the sides are made from to give you an idea of the amount of filling that was required.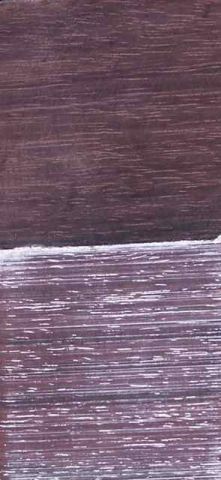 The top section has one pore filling session with the egg white. The bottom section was pore filled with chalk powder and egg white rubbed in with my finger. I force dried both sections with an blow drier, and the entire process took under 5 minutes. The top is pretty well filled. There are only a couple very slight low spots in the deepest pores. One more session would take care of them for sure.
This is going to be the way I pore fill from now on. It's cheap, fast, easy to control and non toxic. The wood doesn't take a dark cast as you can get with some woods under epoxy as well.